8/11/08
I've been thinking for a long time what I have done in my life. I started by, being taught in
school to become a good citizen. I spend a great part of my childhood studying and finally, I get the Diploma that will assure me the position that I desire. I participate the increase of unemployment until I find a job. Through hard test I accepted in the world of work. I perform a good professional carrier filled with activity and efforts. A lot of efforts, till I fall down and exhausted. But I have the ability to balance work and personal life. Work that is truly enjoyable, security for my future, good pay or I can say I have a good salary and enjoyable co-workers.

But time waits for no one...I moved forward selecting new objectives. I met my sweetheart of my life and pro
mising a never ending love. Passionate love follows. We decided to get married, then finally I become a Mrs. My single name change to married name. I'm really happy that I am now a married woman.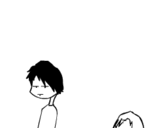 After getting married, me and my hubby are always together. We stay for almost 7 months and we really had fun and enjoyment in our life being a couple. But the time has come and he needs to come back to his homeland where we begun to settle down. Unfortunately, I was unable to come with him, as I need to process my papers yet.

Starting then, I feel the changes in my life being far away of my husband. I guess that I'll be
perish without him, I can say he's my life, my everything and my all. The processing is very slow I cant pushed the time, to make it fast. The time is so slow when you have something to wait. At first, I cried and sulk myself, Im used to be with my hubbys arms. I feel the emptiness inside my heart. I really longed to be with him. I am not satisfied on chatting and hearing his voice in distance. I always stuck myself in my room, talking to no one, all my friends are gone. I feel nowhere and no one I cant turn to. I choose myself to be lonely, alone and abandoned.

Focusing on my status, I decided to improve my life through weekly good deeds. I'll take life easier. When my life is so cloudy I need to be guided until Im sure I can open up my heart. I will

assert myself and listen to others, especially friends and my family. I create a relaxing and harmonious life. I go to church every Sunday, seeing friends unexpectedly. Meeting new acquaintances and seeing different kinds of people. My life now is in harmony just like a song. From now on, my priorities are blogging, chatting with hubbs, entertaining friends, traveling, taking trips everywhere, sports and keeping friendship alive.



Now, I didn't notice the time is running so quickly, we finally reached our 1st level in our married
life. We have our first wedding anniversary, I can't imagine how I struggled being far away from him. But life must go on, and I learned not to wait the time, coz every time is gold. I noticed that time is so slow when you have nothing to do. It's only a matter of time and it's worth waiting for the right time comes along.
Links to this post